This post brought to you by VTech Communications. All opinions are 100% mine.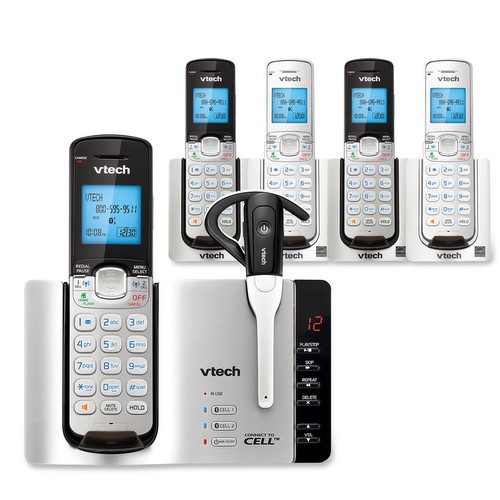 Do you have a home phone? We didn't, but now we do!
Every household used to have a landline, but our cell phones have since taken over. Instead of adding yet another phone bill, how can I be sure to juggle day to day life as a working mom, multi-tasking without missing a call?
Meet the Vtech DS6670-6C Connect to Cell phone. This is the perfect solution for mamas like me who have their hands full! This phone resembles a cordless house phone, but connects to your cell phone via Bluetooth technology and can be used all throughout the house.
It's super easy to set up and use: Plug the batteries into the back of the handsets, plug the bases into the outlets of each respective room, and place the handset into the base to charge overnight. The phone is used like any other cordless phone, yet you can toggle between cell phone and land lines. There are so many reasons that I would recommend this multi-line phone for any family household:
Move around the house without missing a beat. Your cell phone can sit where it gets the best reception and you can pick up any handset in any room and make calls from your cell phone line.
With 5 handsets, one in each room, I will avoid running up and down the stairs and missing the call. No more mad dash!
Easily pair up to two devices by pressing and holding down one of the "cell" buttons and discover the "Vtech DS6670" on your smartphone. Then, you can populate the Vtech phone with your contacts from each cell phone you pair.
Attend to household responsibilties with the cordless head set that comes with this model. Cooking, cleaning, and other duties are easy to keep up with while connected.
Kids should be able to have access to a phone in case of an emergency, and the Vtech Connect to Cell in each room makes it easier for them to make calls if necessary.
If you do have a landline, you can connect it as well.
Such cool features! So if I make a call using my Bluetooth connected cell phone, my husband can also make a call using his connected cell phone on another receiver, at the same time! The kids can pick up another handset and call grandma from the landline, too.
I have no problem catching up with family and friends and taking care of the household duties at the same time. Between running downstairs to tend to the laundry and back up to the kitchen to set the oven, the Vtech DS6670-6C is a very convenient and sensible addition to our home. Learn more about Vtech's Connect to Cell technology, get the DC6670-6C exclusively at www.vtechphones.com, Follow VTech on Twitter and Like VTech on Facebook!
If you liked this post, Subscribe, follow on Facebook and Twitter!
Love it? Share it!