This post brought to you by Dreams Resorts & Spas. All opinions are 100% mine.
Who's dying for a tropical retreat? WE ARE!
I'm looking for a place that's a family friendly, offers unlimited luxury, and a relaxing beachside vacation in paradise. I prefer an All-inclusive luxury resort, with impeccable service, entertainment for both kids and adults, and sunshine. I think i've found it… almost.
Dreams Resorts & Spas are pretty much drool-worthy destinations that would meet all of these requirements. They have 9 resorts all in gorgeous tropical locations that offer Unlimited-Luxury®, a lavish vacation concept where everything is included. Each of their resorts are perfect for romantic couples, Family travel, and travelers seeking a budget friendly vacay.
Where would you go if you could pick up and hop on a plane today? As for me, i've narrowed it down to three of the Dreams Resorts & Spas destinations…
Dreams Villamagna Nuevo Vallarta Resort & Spa
Riviera Nayarit, Mexico
This award-winning resort is located on Banderas Bay, a sun kisses destination on the Pacific Coast in the Puerto Vallarta area. Enjoy plenty of activities as thrills await, including scuba diving lessons, wave runners, water skiing, bike tours and even an on-site euro-bungee jump!
Dreams Tulum Resort & Spa
Riveira Maya, Mexico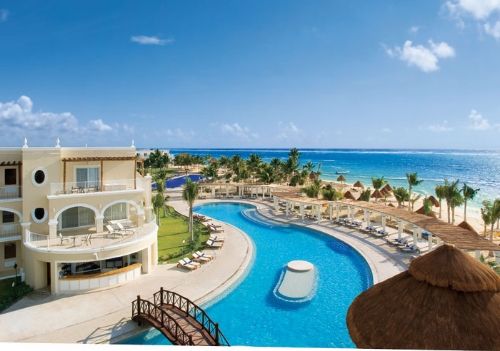 This resort is minutes from the majestic Mayan ruins of Tulum, a popular tourist destination. Spend time in a swim out suite, or head to the private beach to take part in activities such as deep sea fishing, cooking lessons, family beach olympics, a guided hike, and many ocean activities.
Dreams La Romana Resort & Spa
La Romana, Dominican Republic
Combine tropical beaches with a lush jungle and you've got an amazing destination! This resort is located on the south east coast of the island of the Dominican Republic and has a bunch of fun things to do: plenty of water sports, golf courses nearby, aerobics in the sea, merengue and bachata dance lessons on their private beach, an onsite casino, an ocean trampoline, and a mechanical bull. OMG.
All of the Dreams Resorts & Spas properties feature luxury suites with all of the amenities, multiple gourmet dining options, lively bars serving premium drinks, a kids and teens club, spa services and more.
Help me choose my escape: Which one ot these Dreams Resorts & Spas would you choose?
LEAVE ME A COMMENT!
When you do, WE have a chance to win a vacation to one of them! If I can get some decent commentary and social shares on this post, I could win a vacay to my favorite property, and I can choose one of my readers to win one, too! I win, you win… easy enough!
I'm thinking Tulum, y'all. If I do get chosen, i'll pick a valid comment at random. Good luck to all of us!
If you liked this post, Subscribe, follow on Facebook and Twitter!