This post brought to you by STOLI® Vodka. All opinions are 100% mine.



Looking for delicious, refreshing summer party drinks?
If you are entertaining this summer, your adult guests will love this cool, vodka summer beverage. Sip by the poolside or in the backyard while you all mingle and the kids play. I'm talkin' about this Stoli® Vodka and Mint Lemonade!
I have been inspired by the Stoli® "100 Days to Squeeze" initiative, where we are encouraged to get the most of our summer days and nights with Stoli lemonade trucks and bar events, all over the country! People will be able to try out various Stoli Lemonade cocktails, lemonade ice pops, and allowing all to take part in summer challenges to win awesome prizes! Be sure to keep an eye out in your city, you never know when you'll come across one of these events.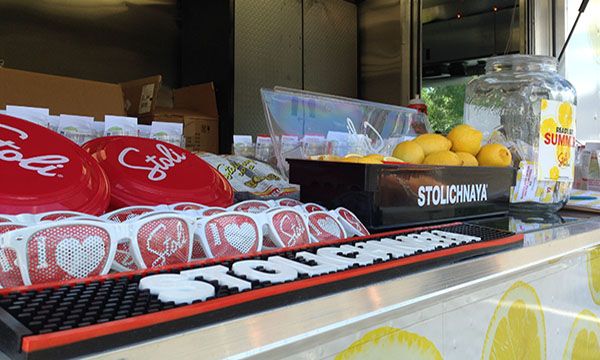 I have always loved lemonade, it's such a refreshing, crisp beverage that keeps me cool through the hot months of the year. It's time to spike it with Stoli® Vodka and a little bit more flavor, here's what you need to make it:
Stoli® Vodka Lemonade Cocktail
2014-07-09 12:37:00
Serves 2
A refreshing summer lemonade cocktail to serve at a backyard party or enjoy poolside.
Ingredients
2 cups Stolichnaya Vodka
4 cups lemonade
ice
Instructions
Combine the vodka, lemonade, and half of the mint leaves in a mixing bowl. Fill a mason jar or high ball glass with ice. Add the rest of the mint and berries to the glass, then pour in the vodka lemonade mixture over the ice.
Garnish with a slice of lime. Enjoy!
Honey + Lime http://www.honeyandlime.co/
Stoli® Premium Vodka has such a smooth taste, it went so well with the sweet and tart flavors in the lemonade. I decided to get creative with mine and add fresh mint leaves and a few berries, I love how it turned out! Next time, I want to try this with Stoli® Blueberi™ flavored vodka for a tasty twist!
Cool off your summer soiree with this refreshing Stoli® Vodka and Mint Lemonade. Trust me, if you like vodka, and lemonade, you'll love them together! Squeeze the most out of summer and visit Stoli® online to find out where the Limo-nade trucks will be! Also, Follow Stoli on Twitter for the latest #StoliLemonade updates! and visit the Stoli Facebook page. See more Stoli recipes and ideas on Instagram, some of those drinks look so delicious!
Where will you cool off with a Stoli® Lemonade?
If you liked this post, Subscribe, follow on Facebook and Twitter!