Try one of these money saving challenges to help you save some extra cash this year, each with a different way to help you save! If you are looking for ways to save money in the new year, try these ideas to save cash.
New year money saving challenge to try
Who wants to save some money in the new year?! Whether you want to pay off some debts, go on a family vacation, or add to your savings account, it can be done. Most of us have some pretty bad spending problems, but the key to living on a budget is to focus on needs – NOT wants. Learn how to make a budget and stick to it here.
I realize that it's difficult for some people to budget, and this list of different money-saving challenges is helpful. I really hope that these monthly money saving challenges will help!
11 Money Saving Challenges To Start Off The New Year
1. The Save By Number Plan – 4 Hats and Frugal
For this monthly savings challenge, my friend Amiyrah details a great way to save by using round monthly numbers. Visit her post to see exactly how to break it down each month. At the end of the year, you'll have saved $340 – but go ahead and up the numbers each month to save even more!
2. The $10 money saving challenge that will save you over $500 – Honey + Lime
Learn how to do a money saving challenge with our easy low-cost version! I really like the $10 money-saving challenge, it requires stashing away $10 each week for 52 weeks per year. To make this a monthly money savings challenge, group this into monthly amounts if you'd like. That's only $40 per month (or $50 for the long months with 5 weeks), not too bad!
Omit your daily latte at your favorite overpriced coffee shop and you're set. Stay on the course and you'll have $520 at the end of the year, click the above image to print out the image of the $10 money savings challenge.
3. Penny saving challenge – This easy savings challenge starts with just a penny. Learn how to snowball your money into over $650 this year from Smart School House!
4. The money savings challenge for kids – Mom Dot
Trisha over at Mom Dot shares a fun way to get the kids in on learning how to save their money. This is one of the best easy money saving challenges, it uses quarters instead of whole dollars, so this one should be easy for kids to follow through with!
5. The Ultimate Book of Savings Challenges – This notebook contains four different kinds of savings challenge ideas with 120 tracking pages that will help you hold yourself accountable and stay consistent.
6. The original 52-week money saving challenge – Honey + Lime
Basically, you will save the dollar amount for each number of the week you're on. Week 1 would be $1, week 2 would be $2, and so on. By the time you get to week 52, you'll put in your final $52 and will have saved $1,378! Get the 52-week money-saving challenge printable here.
More ways to save money monthly
7. The 52 week money saving challenge in reverse – Funtastic Life
This is one of our favorite monthly money-saving challenges, it's similar to the one listed above – but in reverse! The thought is that it's easier to start off bigger in the new year, once we get to December, the holidays make it harder to save larger amounts. Click the link above to check out how my girl Leanette does it!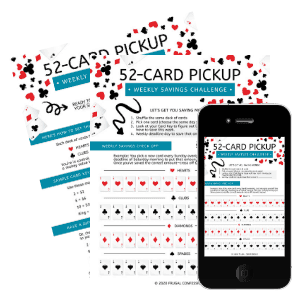 8. 52-card pick up weekly savings game – This money saving idea uses a deck of cards and the infamous 52-pick-up game to decide how much money you'll  save each week! Download a free printable from Frugal Confessions.
9. The 30-day personal finance guide – Refinery 29
With this 30-day money-saving challenge, there are 30 tips to follow for each of the days of the month to take a look at your financial habits and make simple changes to help you save money. This plan suggests saving the dollar amount for each date ($1 on the 1st, $2 on the 2nd, etc) and shows you how to come up with the money to save. By the end of the 30 day money saving challenge plan, Refinery 29 says that you'll save around $500+!
If you are looking for a 3 month savings challenge, you can follow this guide for 3 months in a row and save close to $1,500.
10. Saving by Age Challenge – Kids can learn how to save money with this age-based money saving idea. Learn how they can have $2,000 by the end of this long-term challenge!
11. The save $5,000 challenge – Want to save even more? Here's a $5,000 12-month money challenge to try, if you're up for it! People's Bank and Trust has a 52-week money savings challenge where they increased the weekly savings amount. It eventually adds up to $5,000 saved, perfect for a large purchase or a big savings deposit!
Now you know how to do a money savings challenge!
While it can seem hard to be able to save money, you and totally do it. You need discipline and a plan, and remember, you've got to make more money before you can save more money.
Best of luck to you in the new year! Also, read how you can save money as a single mom and even learn how to save money for college for your kids!
Subscribe: Facebook | Twitter | Instagram | Pinterest | YouTube